The iPhone 15 series is still 8 months away from release, but rumors about it have begun to circulate. Leaker ShrimpApplePro published a series of rumors about Apple's upcoming phones today.
Rumors about the iPhone 15 design
The rumors center on the iPhone 15's screen. ShrimpApplePro hinted in November that the iPhone 14's square back design would be replaced with curved edges similar to the iPhone 5c.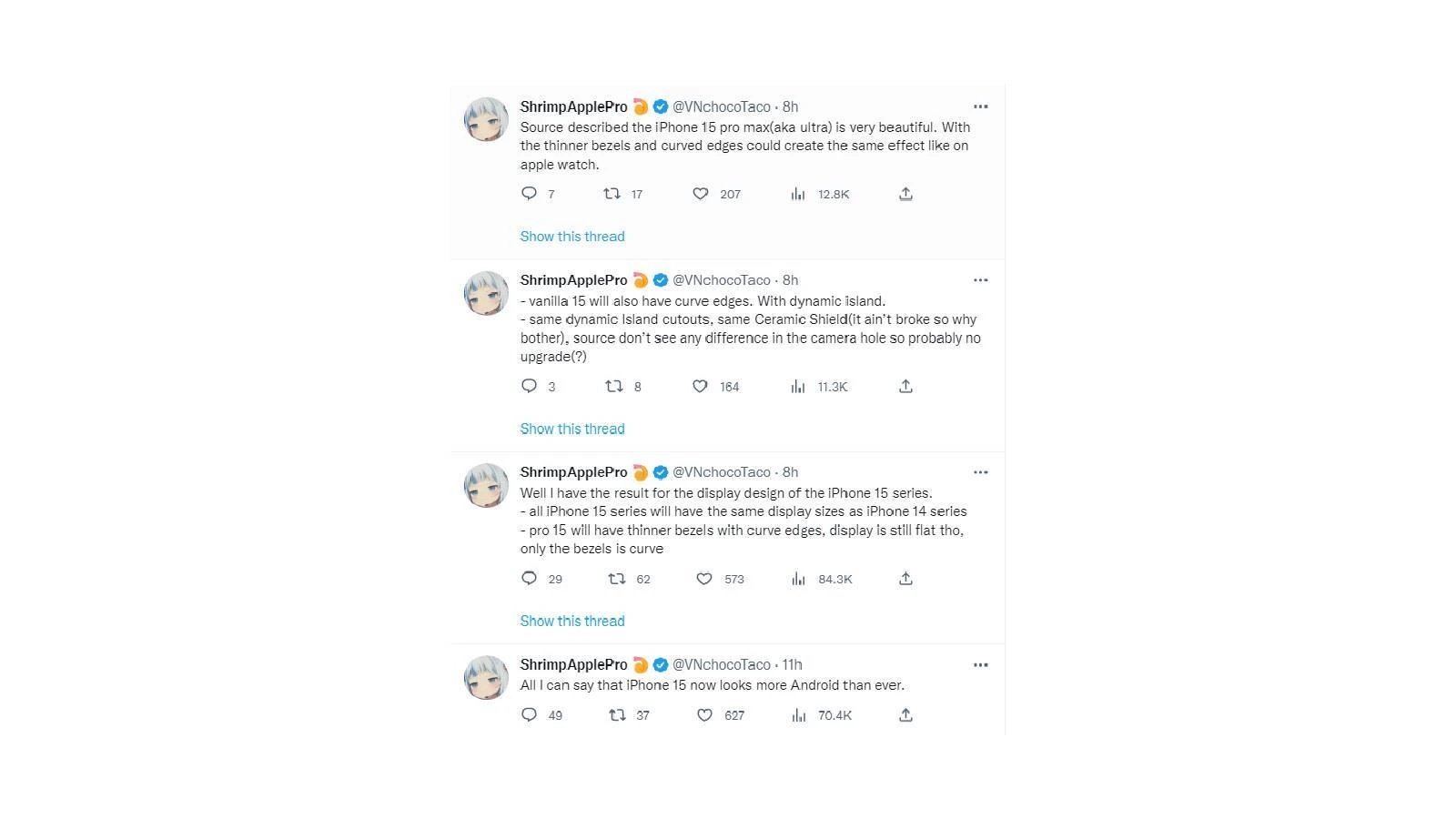 This leaker has recently continued to provide more information about the iPhone 15 design. According to ShrimpApplePro, the iPhone 15 series will be the same size as the iPhone 14 series, implying two standard models. with a 6.1-inch display and two more advanced models with 6.7-inch displays.
According to ShrimpApplePro, the high-end variants, dubbed the iPhone 15 Pro and 15 Ultra, will have thinner bezels than their 2022 counterparts.
According to the source, all iPhone 15 models have curved edges and flat screens. The Apple Watch Series 8 product line is compared to this design. Dynamic Island is available on all models, not just the two Pro models as on the iPhone 14 series. The phone will continue to be protected by Ceramic Shield glass.
The selfie camera on the iPhone 15 can be retained
The same source also stated that the iPhone 15 has the same camera cutout as the current generation, implying that the front camera specifications will not change.
According to this leaker, the design changes will make the iPhone 15 look like an Android phone. Because of its flat screen, notch, and camera array, the iPhone has become instantly recognizable. According to previous leaks, the iPhone 15 will most likely do away with the physical button and the Lightning port, and higher-end models will feature a 3nm chip. According to some leaks, the standard model will be less expensive than the 2022 variants, but the Ultra may be more expensive.